Too often people tell me that they love honeybees but they are allergic to bee stings. Later in the conversation I find out there was a big misunderstanding of what they thought they were actually allergic to. The descriptions of what happens when they are stung by a honeybee is the same reactions that most people experience.
Bee stings swell the next day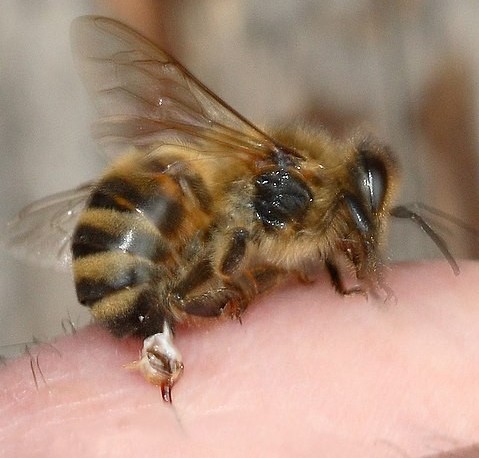 Keep in mind not everyone has the same reaction, however, there are reactions to bee stings. The reason being that when a honeybee stings you, within the first 10 seconds, their venom is pumped into your body. Over time, some beekeepers may experience less of a reaction.
The fact that people know there's venom pumping into their body may create more of a psychological issue more so than an actual reaction.
I'm told by many that the location of where they are stung swells up the next day and it is very itchy. I, too, have the same reaction to a honeybee sting. The bee stings you, you remove the stinger from the affected area and the next day that sting is red, itchy and swollen. Usually the symptoms reside within a few days.
Severe allergic reactions
Every so often I come across a person who tells me they actually have a real allergic issue with bee stings. Their throat closes up within minutes of the bee sting or their tongue is also swollen. In these scenarios, yes that person is allergic to bee stings.
As time goes by, even beekeepers who were not allergic to bee stings, aside from the usual reactions, may become allergic as they are around honeybees and are stung more often. Each bee sting becomes progressively worse each time they are faced with a sting.
Wasp stings vs bee stings
I think another misunderstanding is what kind of insect the person was stung by. Some may say they are allergic to bees when the reaction they encountered was from a wasp. Even though both of these insects are considered to be "bees," they do not have the same venom and do not share the same reaction.
A wasp sting produces different reactions from a honeybee sting. Some wasp stings may hurt longer and continue to hurt for a few days, whereas, honeybee stings may hurt for a minute or two but become very itchy the next day.
Talk to a doctor if you are concerned
Several people say they share the same love for honeybees and would give anything to be able to contribute to society in the quest to save honeybees, if only they didn't have this allergic problem. If anything else, consult with a doctor to see if your symptoms are indeed reason for concern.