It is always important to do your homework on any particular hobby before just divulging yourself into it.
With beekeeping it's even more important to know what you are looking at when opening up a hive. Honeybees can tell you so much about what's going on, if you only know what you're looking for.
A beekeeper's goal is ultimately to keep the hive alive. In order to do so, you should know what kind of bee is in the hive and their purpose. In any hive, you have a "queen" who lays the eggs, a "drone" (the male honey bee) and the "workers."
Not every bee is the same size, for example, a drone is not the same size as a worker bee. Each bee plays an important role and in this case some of them wear more than one hat to get the job done.
What is the queen bee's job?
The basics of a queen bee's job is to lay eggs. This is ultimately her entire life and she can lay up to 2,000 eggs a day! However, she isn't able to feed, groom or take care of herself outside of this job. Those other tasks are assigned to the workers who tend to her and take care of her.
Do queen bee's sting? The queen bee does have a stinger, however, she will mostly use it as a rivalry when she first emerges to compete with any other "new" queens since there can only be one queen bee for each hive.
What do queen bee's look like? The queen bee is bigger than all the others. She has an enlarged abdomen, her black and yellow stripes aren't as prominent like all the other bee's.
Even though her whole life revolves around laying eggs all day, she produces pheromones that directs all the other bee's. Without her the hive wouldn't exist. She is the mother to every single bee in the hive. Her role in the hive is very important.
What do worker bee's do in the hive?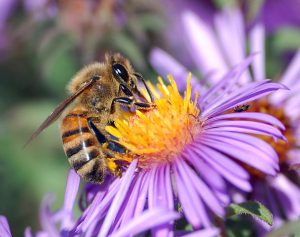 Worker bee's are the bread and butter of the hive. These little bee's are all female and are the smallest compare to the queen and the drones.
Workers play many different roles in their short life span. At first, they start out as "nurse bee's" taking care of the larva and making sure they are fed. Or they may take care of the queen, feeding and grooming her.
Skipping ahead a few weeks as an example, those same bee's who started out as nurse bee's later become "foragers." At this stage of their short lives they fly out in search for pollen and nectar. This is the most dangerous stage of the worker's lives due to so much can happen in their quest for food.
However, the worker honey bee's are the most productive out of the entire hive. These girls do everything else to make sure the hive stays alive.
Many other tasks range from: cleaning cells, capping brood, feeding larva, creating wax, guarding the hive, searching for food, etc. The list goes on and on.
It is a great social structure that goes on in a beehive. Every worker sticks together and gets the job done. To answer the question, what do worker bee's do in the hive? The answer would be everything.
What do drones do?
Usually when I speak with others who are very curious about beekeeping, or even those who are not as interested but I spew information at them anyway, they always manage to think every honeybee they come in contact with is male. This is routinely the first area I cover to correct them.
The male species of the honeybees is called a drone. They are bigger in size compared to a worker but also smaller than the queen. Even their eyes are bigger than a worker bee or a queen bee.
Drones are also sting less, that's right, not every bee in the hive has a stinger. So, what do drones do if the workers do everything else? The purpose of a drone is to mate with the queen and afterwards it dies. Even though a drones purpose seems small, it is still an important role to ensure their success.
Bees life cycle – how long does everyone live?
A bee's life cycle is different depending on which bee you are referring to. So how long does everyone live? A typical worker bee will live up to 4 to 6 weeks in the summer. These girls work themselves to death. In the fall and winter, they can live a while longer since foraging for food isn't an option.
The queen bee will live up to 2 to 3 years depending on a variety of factors. And a drone can live up to 21 days, however, keep in mind as I had mentioned they will die after mating. Also, drone bee's are "kicked out" of the hive when the weather is cold to save on the storage of food.
Bee inspired!
On the scale of tasks needed to be done, it is by no means equal for everyone in the hive. Nonetheless, there aren't any complaints or fights about who does what.
Every worker puts forth as much effort as they possibly can. They have to in order to survive, it isn't an option for them. You won't find one worker bee out of the other thousands just sitting around so someone else can do the job. It's really quite inspiring.
I have only covered the basics of what each one does. There is so much more involved with a bee hive. The great thing about being a beekeeper is learning each role or the details that one worker bee will go through in her life. I recommend to anyone who decides to become a beekeeper to do their research.
Learning how to keep honeybees alive can be very rewarding. For myself, it feels like an accomplishment as well. An excellent hobby and a great topic to learn about.