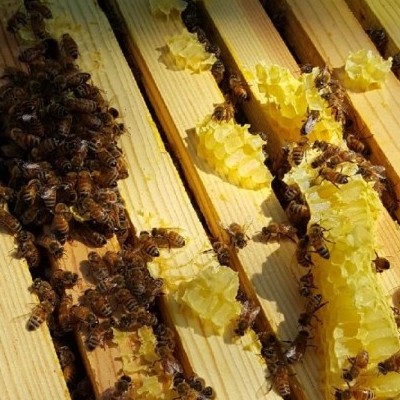 "I'm a beekeeper." A typical line I use when people ask me what my hobbies are. This is usually followed by wide eyes and the question of why I chose such a hobby. I even received looks of either disgust from others who feared bees.
Regardless, I am always happy to share my experiences and passion for these creatures.
More so, my goal is to express just how important they truly are. I decided to share my experiences with honeybees and in the process inspire others.
With knowledge other people may be inclined to become beekeepers themselves or perhaps they could just gain a better understanding of these great pollinators.
Why honeybees are important
Honeybees are widely misunderstood. If you talk to just a handful of people on the street, most of them are not able to distinguish between a wasp and a honeybee. Everyone assumes bees will sting you and cause problems. However, if people took the time to learn about them, they'd see why honeybees are important.
The great pollinators.
Aside from the honey they produce, honeybees are great pollinators. Plants rely on honeybees to reproduce and spread seeds that make the foods we love. Roughly 80% of our food is pollinated by honeybees. Without them we wouldn't survive. With that being said, education is important.
What some people may not know is that honey bees are considered a super organism. Through beekeeping, I have discovered honeybees are capable of doing other things that most bugs cannot.
Aside from everyone working together, one worker honey bee in her lifetime will go through every single task that's needed. She will do everything.
Also, all the worker honey bees work together to make sure the hive survives in the winter. Whereas, a lot of other insects all die in the late fall and early winter.
The beginning of beekeeping for me.
Aside from the environmental aspect of it, beekeeping has intrigued me. I had seen educational videos about beekeepers tending to their "mini-livestock" of insects they protect. I saw an educational video about a beekeeper and thought to myself what an interesting hobby.
However, what caught my eye is the structure involved with how honeybees actually work. Everything I had read about them baffled my brain.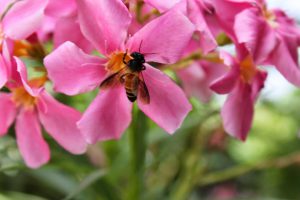 While most people are still trying to figure out their own lives, these little bugs already have their lives put together and have figured it all out. After awhile it felt like their lives were far more structured than our own.
What's even more spellbinding is all the work in the beehive is accomplished in the dark through smells and touch. Everyone has a job to do and they work hard at it.
Becoming a beekeeper was a goal of mine for a couple of years. There were many things I learned through error, for example, I didn't realize there's a specified time of the year to buy bees.
It took me two years to officially make the hobby a reality and it was so worth the wait. These little creatures have taught me so much, not only about their lives but also about my own. I'm able to realize that regardless of how tough I think my life is, it could be harder.
People complain about the work they have to do on a daily bases, however, a worker honeybee does not. She has a task to do and is forced to do it in order to survive.
Also, another reason why I chose beekeeping is because there are a lot of factors effecting the lives of honeybees. Aside from the destruction humans cause, another bug called the varroa mite is causing havoc on the honeybee's existence as well.
Why others should become a beekeeper and what's involved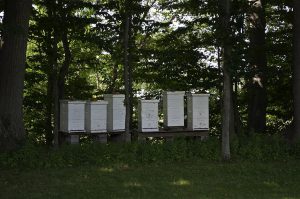 When I first started I had an interest in honey bees, now I am what my friends and family call "obsessed". Beekeeping can be quite addicting through knowledge of how they work and what goes on inside a hive.
The honey they produce is delectable and far better tasting than any honey bought in a store. The good feeling of participating in this world to ensure their success is very rewarding.
You develop an affection for them and a strong desire to want to help them even more.
Everyone always asks if I've ever been stung. Sure I have, however, just like anything in this world you have to take the good with the bad. Each time a bee stung me, I was invading their territory.
It's a great experience.
A few bee stings is nothing compared to the experience, skills and developed admiration I now have for these insects.
I've also been asked how much it takes to become a beekeeper. There are some additional costs in protecting yourself with a bee suit or jacket. There are other required tools necessary as well as the costs for the bees and hive boxes.
Every new beekeeper should always check with their local city ordinances to make sure the desired location isn't breaking any laws. And most importantly, inspired beekeepers should educate themselves on honey bees. Yes, a lot is involved with beekeeping. However, all of it is worth it.
The point is to save the bees.
I firmly believe if more people had a better understanding and were educated about honeybees, they wouldn't fear them so much. They would realize how docile honeybees truly are.
More knowledge would spark curiosity to not only learn more but observe as well. Beekeeping is rewarding and at times even relaxing.
Observing a hive on a nice summer day can be peaceful once you've overcome the initial fear of stings or bug crushing.
Honeybees have always been there to help out man kind, whether it's helping farmers with their fields, or the sweet honey most of us use in our daily foods, to the delicious vegetables we eat and even the pretty flowers we enjoy.
All of these things we take for granted on a daily basis. If anything we should make an effort to help them in their success.