For anyone who is interested in becoming a beekeeper or for anyone who is curious about bees, you may wonder just how someone gets an entire colony of bees into a hive box. There are a couple of ways of doing it, but the one I want to talk about is how to install a package of bees.
What do the bees come in? And where is the queen?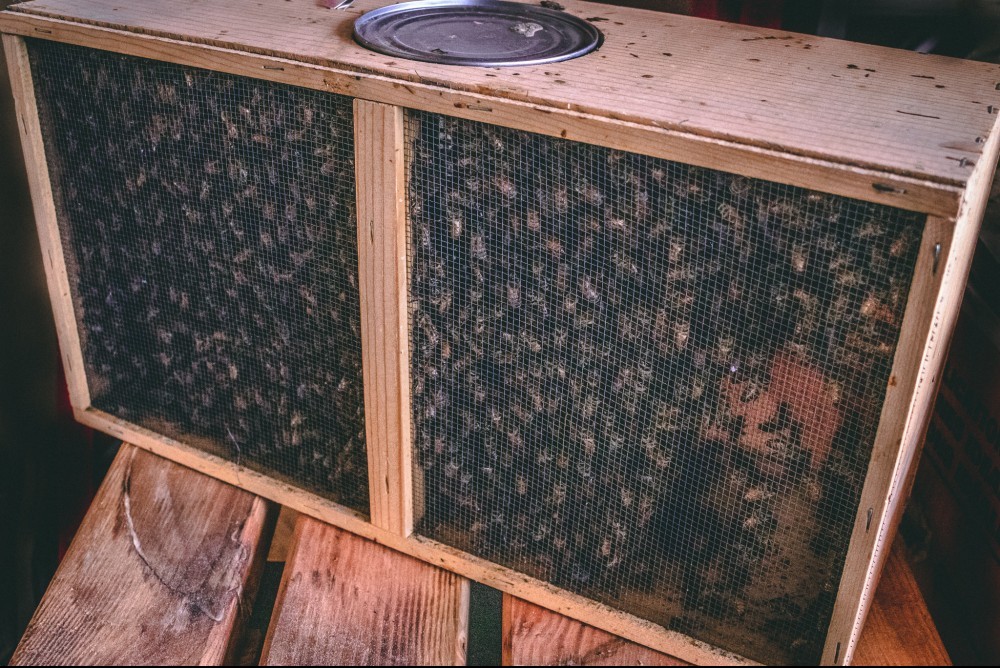 Oftentimes, I will get asked how bees arrive or if they come in the mail. Honeybees do not come in the mail. But instead, I order my honeybees through a local honeybee store that I have to go pick up. However, they are ordered well in advance. Usually I will call around early to mid February. Simply because there's usually a waiting list!
The package of bees will come in a box with a metal mesh around it (or sometimes it's made of plastic) with a queen who is in a smaller box with a metal mesh over the top that is placed inside the box just near the top.
This package of bees isn't very big and doesn't provide a lot of space for the honey bees. Everyone is piled on top of each other and crammed in a small box.
The queen is placed in a separate wooden box inside of it because all the honeybees do not come from the same hive when they are put in the box. Oftentimes, there is a mix of different honeybees from different hives.
In this case, if the queen is released she will be killed by the other honeybees. They are not used to her pheromones and it is only natural for them to kill her off.
So to avoid this issue, the queen is put in a separate container with a small hole at the end. When you first pick up your bees, the hole has a cork in it (which you will replace with some candy. I'll explain this later).
This smaller box has a metal mesh over the top which allows for her to breath and also allows the other honeybees to get used to her pheromones so by the time she is released, the goal is that everyone is used to her and accepts her as their queen.
Inside the small area of bees is usually a metal cylinder feeder filled with some sugar water for the honey bees to feed on while they await the location of their new home.
Preparation ahead of time
Before you set out to pick up your bees, you'll want to ensure that your hive is already set up and good to go. Also, keep in mind that their new home will not have any stored food for them to survive on. You will also want to provide them with some sugar water to start them out with.
The sugar water mixture is made up of 1 cup of water to 1 cup of sugar and is usually place inside a sugar feeder that you can purchase online. Usually if you buy your hive as a set, this is already included with it.
Picking up the bees
Depending on the company you are purchasing the honey bees from, the dates could vary on when you are supposed to pick them up. Typically, bee purchasing time is in the early to mid spring time frame.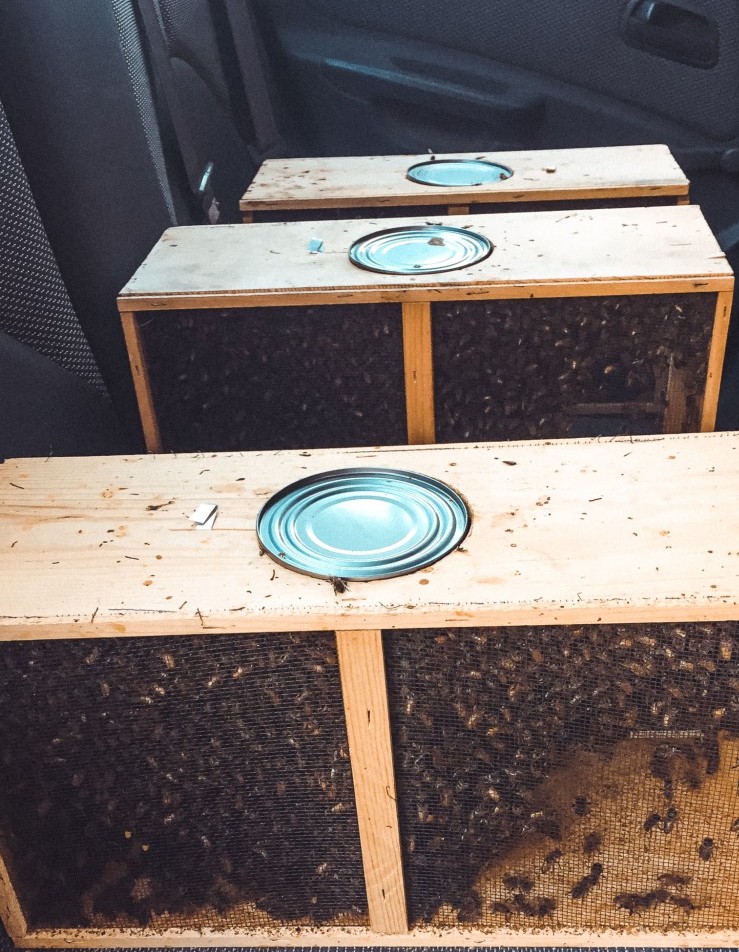 If you are anything like me and you do not have a truck or a handy area to place your bees when you go to pick them up, you will want to place them in the back seat of your car.
Yes, this sounds scary because you can just imagine how disastrous the trip back home could be.
However, the bees are securely placed inside this package without a way out.
This last spring I had three packages sitting in the backseat of my car as I drove 54 miles to get home. And during this long trip home, there weren't any loose bees inside my car.
It isn't recommended putting the bees in the trunk. When I went to pick up these little creatures it was about 9:30 in the morning, so it was pretty warm already.
By placing them in the trunk, they would have over-heated and potentially all died.
Installing honeybee packages
It is advised to install packages later in the evening when it's almost sunset. The reason for this is so the bees are less likely to fly off. It's later in the evening and they are more inclined to settle down for the night.
Each beekeeper may have their own way of installing bees but this is how I do it:
The first thing I do is I will get a spray bottle and put some sugar water in it and gently spray the bees with it. The reason this is done is because the bees will then be preoccupied with cleaning themselves off so when you are dumping the bees into the hive box the y aren't as cranky.
Afterwards, I will then pry the can of sugar water out of the box, only enough to grab the smaller box that the queen is in and close it up again.
Remember that cork I had mentioned earlier that is in the side of the queen box? Here is where you will want to remove the cork, place your finger over it (so the queen doesn't escape) and place a gumdrop in its place.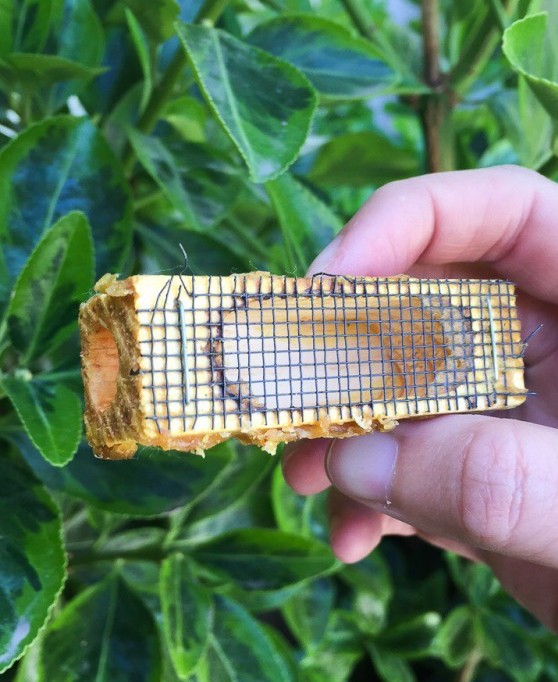 By doing this, the honeybees will eat away at the gumdrop while they get used to her pheromones.
When the gumdrop is eaten the queen will emerge and start to lay eggs.
After you have done this you will want to nestle the queen box in between two frames making sure the metal mesh is pointed downwards.
You do not want the metal mesh facing a frame or she will suffocate and die.
Next comes the exciting part!
Now you will want to gently remove the cylinder feeder. A bunch of bees will come out and start flying every which way.
You will want to act quickly and dump the bees over the hive box. I find that by shaking the box side to side the bees tend to fall out faster.
Granted other beekeepers have their own way of installing a package of bees. The way I have explained it is the easiest and quickest way that works for me.
Checking on the bees
After installing the bees you will want to wait about 3 or 4 days before checking on them again. At this point what you're looking for is that the queen has left her little box. Also, what you will want to look for is if you see any eggs.
This is a good indication that the queen has been accepted and the sight of eggs is also another sign that the queen is alive and doing well.
During my last installment of bees, one hive still had the gumdrop left after about 4 days. At that point, I removed the candy and placed the box back inside the hive. Fortunately she is still alive and doing well. Long live the queen.
That's how I install a package of bees. It seems like quite a process but in reality once you're there to install them, it goes by so quickly!
If you have any questions or have any experiences of your own, please feel free to leave a comment below! I look forward to hearing from you!