Inside a hive, you have the queen who lays eggs and the drone who has only one task to mate–if he's lucky. The worker bee on the other hand does so much more than most people think.
They are so incredibly busy working their little buns off to ensure the survival of their species. So much goes on in the honeybee lives that is missed.
I thought I would take a moment to share my knowledge of what a busy worker bee does in her short lifespan during the spring and summer months.
To read about what happens in the winter months, click here.
Tasks of a newly emerged worker bee.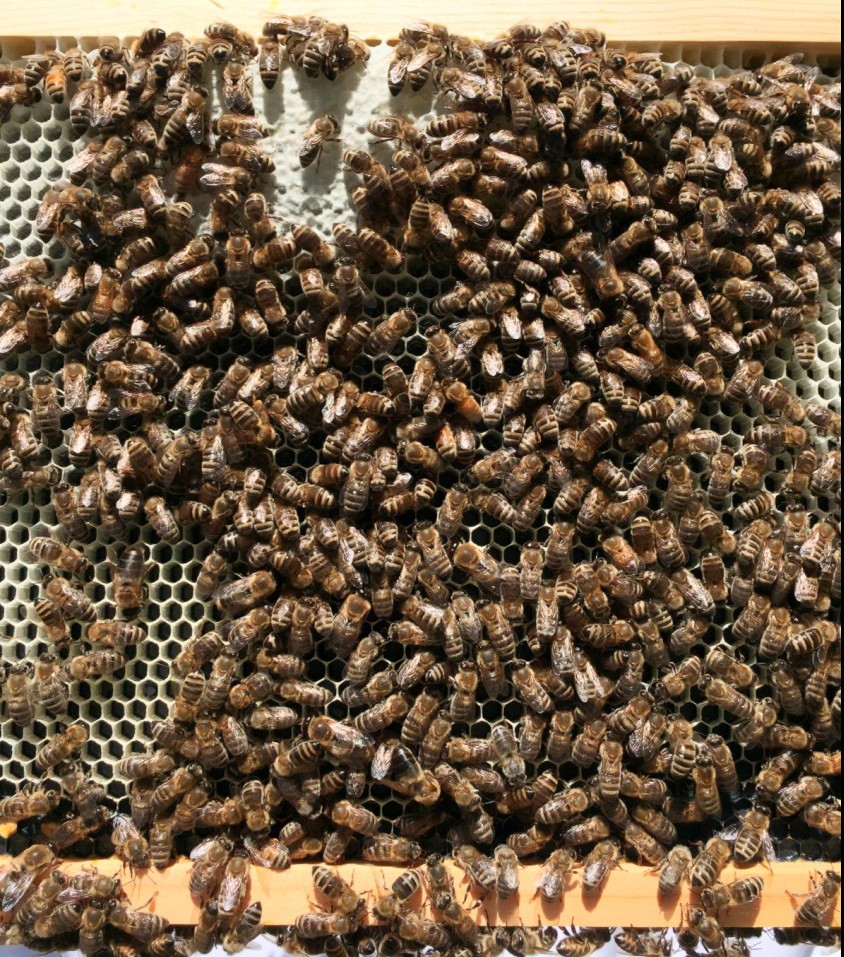 Aside from the drone who is the male in the honeybee world, all other bees inside the hive are all female.
It is the females in the hive, known as the workers, who do all the work to make sure the hive runs properly. And it starts from the moment they emerge out of their cells.
The first thing these "new-bees" do is clean out their cells that they just came out of. Honeybees find house cleaning a very important task.
Their job after that isn't to immediately run out and find pollen, these girls are known as "nurse bees." They take care of all the other eggs and larvae.
Worker bees ensure the larvae is fed with their special "bee bread" they make from the pollen that is collected and stored.
They create a cap that is placed over the larvae when they are about to transform from a larva to a bee.
Honeybees also make what is known as "royal jelly" which is not only fed to the larvae but is the queen's main and only source of food.
Some many other tasks the worker bee does includes making the wax that holds the honey they make that also holds the eggs the queen lays and the pollen that is brought back.
They also make a sticky substance called propolis that kind of insulates their hive or holds everything in place.
This substance is pretty strong and one main reason why beekeepers will use a hive tool when going to the bee yard. To see more about a hive tool, click here.
All of this is done on top of making honey and storing honey reserves for safe keeping.
There isn't one task assigned to each bee.
Every worker bee performs each task throughout their lives. One assignment isn't given to each honeybee for them to do for the rest of their lives.
The worker bee will do every task at some point during her 4 to 6 week life span.
I know some movies portray the honeybee as holding one job during her short career as a honeybee, however, this just isn't true.
The only two bees inside the hive who do not wear multiple hats throughout their lives are the queen and the drone. However, even out of those two, the queen does way more work than the drone ever will.
Guard the hive and take care of the queen.
On top of all the "to do" items on the worker bee's list, they also have to take care of the queen bee.
Even though the queen is known for her role as a type of leader, she really only lays eggs and gives off pheromones. It is the worker bees who make sure she is well-fed.
They feed her royal jelly that they make themselves. This is the only diet the queen is fed. Worker bees also take care of her feces and groom her.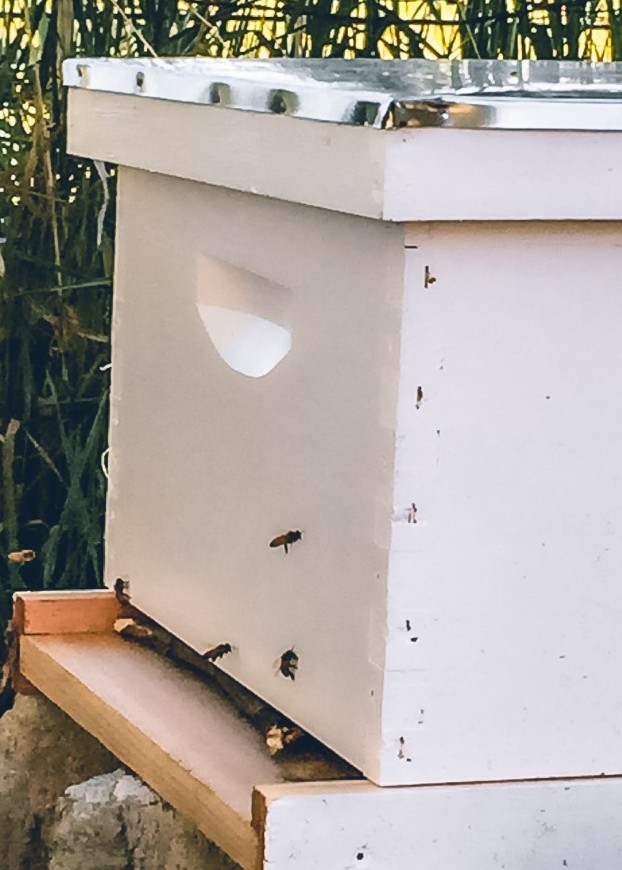 When it's time to make a new queen, this task is also in the hands of the worker bee!
These girls create the larger cell for the egg, building it out as she grows and maintain a constant supply of royal jelly until the queen cell is capped off.
Their job also entails making sure the hive is well guarded. Worker bees will also stand guard at the entrance of a hive to guard their home. This job requires them to check the bees that are entering the hive.
I've watched the hive as wasps will try to enter the hive. Then, shortly afterwards you'll see some of the girls battling it out with that same wasp who tried to break in.
There are many other critters who try to break and enter hives. Some of them may be other honeybees from different hives!
Later in life.
In the last couple of weeks of a honeybee's life, they will take on the most dangerous task of all. This is when they leave the hive to go forage for food.
Usually a honeybee will fly within a 2 to 3 mile radius, searching for food.
These girls face all kinds of obsticals from cars, pesticides, people who step on them and much much more.
Worker bees store the pollen they find on their back legs. Sometimes when you stand in front of a hive, you'll see returning worker bees with little packed pollen stores on their back legs.
I've even seen different colors of pollen as well. I'll joke with people who visit the hives with me telling them it looked like they got into a bag of Cheetos.
Worker bees do everything!
It's really quite fascinating when you stop to think about everything a worker bee does. There is no lying around being lazy for these girls.
Their hard work pays off too, they manage the hive, keep up with the maintenance and make ALL the necessary food!
Even though their goal is to make sure their species survives, they play a huge role in our lives too. They provide us with delicious honey and pollinate many of the plants we eat on a daily basis.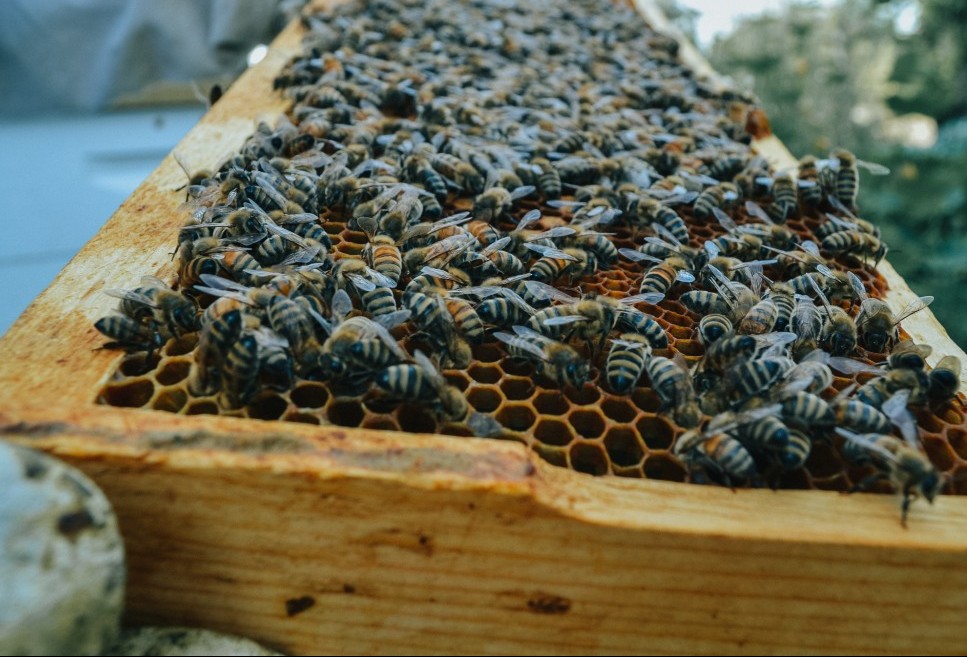 Without their hard work we wouldn't have most of the delicious foods we take for granted regularly.
This includes all the fruits and vegetables. Not to mention the food that is eaten by our main source of meat.
As you can see, they not only take care of their own but they truly do everything and take care of us all!
If you liked what you have read today, please leave a comment below! Also, if you have any questions about bees or another blog post you'd like to see, let me know!